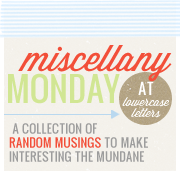 1. Make these gorgeous treats….
These have been on my "must bake list" for quite some time… however, I haven't had a kitchen scale. Remember a few weeks ago, when I talked about CSN stores letting me do a
review
on an item in their store?
Well, I finally decided, that it was high time I got myself a kitchen scale. So I picked out this beauty, and just got confirmation that it was shipped today!! 🙂 You will all have some pictures of some lovely macarons coming your way!!!!
(Side Note: Macarons are a french dessert, and are usually measured in metric units, so you have to have a kitchen scale for the most accurate measurements, making yummy treats!)
2. Speaking of Bakerella…
Do any of you follow me on
twitter
? If you do, you noticed on Friday that I found out
Bakerella
was coming to San Francisco on Saturday for a book signing of her new book, Cake Pops!!
So, I dragged Archie up there with me in the pouring down rain! I totally geeked out on her, and I only hope she can forgive me for totally gushing, being super odd and strange, and telling her, "I have a food blog too!" What an idiot I am! 🙂 In fact, I'm hoping she just forgets me all together, and then we'll all be good. I did get a picture though! 🙂 And she signed my book – so at least I'll remember meeting her. By the way, her book is GORGEOUS!! And it's filled with the most amazing pictures of all of the most creative cake pops you've ever seen. You should go buy one… and find where she's signing books near you… and make a fool of yourself so she forgets meeting me! 🙂
My sister and her family came….
And we all had the best time ever. We did so much in just a week's time, but it was awesome! I love those kids!!! Here are a few quick pictures I was able to capture.
Archie and Gavin looking at the Sea Lions in San Francisco – I LOVE this picture!
The whole gang at the Golden Gate
At Muir Woods (the Giant Redwoods)
They quickly became best friends. Gavin walked Capo around my house (inside) on a leash, and Capo willingly let him do it. All… day…. long…
The boys getting ready to surf at Carmel
Isn't this the most amazing view!
Hope you all have a great week!