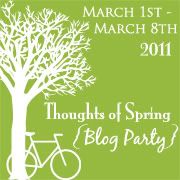 I
heard about this
Thoughts of Spring blog party
that Lynette over at Dancing on Weathered Ground is hosting, and thought it sounded like so much fun! Spring is so close here in California we can taste it…. except for those random few days of rain that still keep coming out. So, I thought this might be fun to join in in order to get everyone in the mood for spring.
If you'd like to participate, just head on over to Lynette's blog and link up (there are a lot of good prizes you get entered in for as well when you enter). Meanwhile, she gives you a list of things you can answer to be a part of, or you can create your own post. It's a great way to meet new people and find others out there who are wanting to meet new people too!
First, I thought I would start, by telling a little about me!
This is me! For my day job, I'm an occupational therapist at a non-profit. I work with kids with varying disabilities, and get to do visits in the families home – seeing them on a one-on-one basis. For my "other" job (and let's be real, we all have "others"), I love to cook, bake, host dinner parties, and entertain, hence the Cooking Vent. I also love to run and am currently training for my second half marathon in April.
This is me and my handsome hubby Archie. I love this picture. It looks like we're in some old world village in Europe or something, but it's really right here in California. My husband's a pastor – he's the worship pastor at our church
South Bay Church
. Or as he affectionately refers to himself, "The minister of Rock & Roll". He is in charge of all the creative elements of the service as well. He's amazing at what he does, and we feel so completely blessed to be part of such an amazing team.
This is my pup Capo. He's 7! He's a German Shepherd and Whippet mix, loves to run with us, chase balls, chase squirrels, chase kids, chase grass, you get the picture! He's a LOT of fun, loves to cuddle, and is pretty much spoiled rotten since he's our only kid right now.
1. If you could live anywhere at all (and take all your loved ones with you), where would you go?
I know this sounds so cliche, however, I would totally choose to live right where I am! Isn't this the most beautiful scene you've ever seen? It's 30 minutes from my house!!! You seriously can't ask for anything more gorgeous!! It almost looks fake. And the best part is, I can get this, mountains, flat land, just about anything I want, all within an hour drive – all while the weather is PERFECT! Don't get me wrong, I would love to visit other places, and am super excited to do so (Italy in October, hopefully China next summer), but I wouldn't want to live anywhere else.
I think the other factor in living here is that I know we are exactly where God wants us to be. We moved out here 2 1/2 years ago to start South Bay Church, and we know we are in the center of His will. Can't beat that feeling!
2. What is one of your favorite things to catch a whiff of?
It would have to be a serious toss up between this and this
Especially when you get the help of these cutie pies! How stinkin' cute are my nephews and niece?!
3. When you leave a social gathering, do you wish: You would have talked more or You would have talked less?
I would have to say always "talk less"! Unfortunately, I'm not much good at social situations. I'm willing to admit that, and totally okay with that. However, it gets me in trouble sometimes, because I just find myself talking (okay more like rambling) because I get a little nervous in those situations. I do so much better one-on-one, and always find myself going over things a thousand times in my head about what I said to so-and-so at a certain outing/gathering.
Of course, it's probably one of those things that they don't even remember me saying it, but I have found myself going back and apologizing later just because I can't get it out of my head. I know it makes me a weirdo, but like I said, I'm willing to admit it! 🙂
4. What's something you consider yourself to be good at? (Don't worry, it's not bragging, it's acknowledging a God given gift)
Hospitality – it's one of the things that always comes up on the personality style tests to find out what you are gifted at. I truly enjoy having people in my home, cooking someone a good meal, throwing a party for someone, and making them feel so special and loved that someone would take out the time to spend specifically on them.
One of my favorite things to do is host dinner parties. Nothing completely fancy – just a gathering of a few people, a menu thoughtfully planned out, fellowship and good conversation that is specifically focused on each individual that has come. My tank is always completely full at the end of the evening, and I don't even mind the dishes! 🙂
5. What is your comfort food/drink?
Drink = Coffee – I seriously have at least 2-3 cups a day! My husband and I are probably obsessed. And we're willing to admit it.
Food = Sweets… Preferably Chocolate…. Must be home made (if's a baked good). I'm pretty much good with any kind of cake, brownie, cookie, yeah. If it's bad for the waste line, it's a comfort food for me! 🙂
So that's all for me… how about you? Where would you choose to live? What's your comfort food, and what do you love to get a whiff of? Tell me about you, and remember, if you want to link up on your blog, check out the box at the top. Also, you don't have to have a blog in order to win

the prizes on her site. See her page for rules.