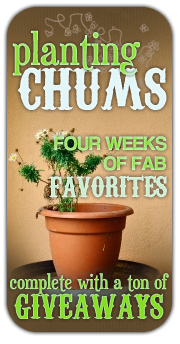 So, I haven't really taken part in any of these blog link ups, giveaway, Fun Fact Friday, Silent Wednesday, you name it craziness. I guess cause I thought, I have a blog about cooking, and it doesn't really mesh. Well, I couldn't resist this time! 🙂 My friend Carissa posted about this blog party on her website, and I checked it out, and the giveaways are to DIE for! I really want the pillows for my bedroom makeover – they will go perfectly!!!
So if you want to get involved, you can go to Hanna's website and get linked in. But in the meantime here are my four random facts – I made mine at least about cooking:
1. When my husband and I first got married, I didn't have much experience in the actual cooking arena (I mostly had done just baking). Well, let's just say I used WAY too much salt. He refers to it as the "salty year", just like PIcasso had the blue period.
2. When I was little, I used to bake a lot – according to my mom I never ate it, but I don't really think that's true! 🙂 I used to pretend that I had my own cooking show. I would put on an apron and heels, walk around the kitchen doing each step and talking to the pretend camera! 🙂
3. In another life I would love to go to culinary/pastry school, but don't like all the science that's involved. I really don't care what needs to go in a cake to make it leavened! I just want to make it and eat it! 🙂
4. My love of cooking has also enhanced my love of photography! I'm definitely NOT professional at it, but I love coming up with shots, designs, backgrounds for the finished product, and even what plates to put it on and how the lighting will look with all of it! 🙂
Enjoy, and hope you play too!!